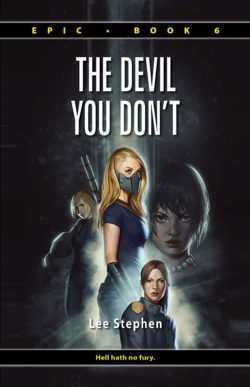 I am incredibly excited to reveal the cover art for Epic 6: The Devil You Don't, as done by the amazing artist Kasia Słupecka! Traditionally, the cover art for Epic has shied away from showing individual characters, but in TDYD that tradition goes out the window as Tiffany, Svetlana, Esther, and Natalie take center stage. It's time for a gear shift, as for the first time in the series, it's the ladies of Epic who are driving the story forward.
This is a story that's been in the works for a long, long time (think origin-of-the-series long), and I'm thrilled that the time has finally arrived for it to be told. There's still a lot of writing to be done, but the target release time for TDYD is going to be Fall of 2018. Trust me, it'll be here in the blink of an eye, and there will be things to help pass that time!
In the meantime, if you haven't read Epics 1-5, you're going to want to take the time between now and the Fall to catch up! The stakes have never been higher for the men and women of the Fourteenth and the unfortunate souls who have been swept up in the turmoil. As they say, you ain't seen nothing yet. The scorned are about to have their day.